Welcome to Helping Nonprofits Thrive.
This weekly newsletter provides practical tools and a bit of theory to strengthen your inclusive leadership skills. Building inclusive and engaging practices that permeate every dimension of your nonprofit helps you stride toward the dream of diversity: better thinking, better results, and a better world.
Deadly Dull or Delightfully Dynamic?
We hope the meetings we lead will be marked by inclusion and engagement.
Where energy and excitement bubble and brew.
Where each person feels safe and brings their best.
Where in the exchange of diverse ideas, better thinking is the result.
Too often, we experience the opposite.
Deadly dull meetings where a presenter drones on endlessly about their "expertise" illustrated by PowerPoint slides packed with too many bullet points that only those blessed with 20/15 vision can see.
Meetings where the "expert" fails to recognize the wisdom and life experience of people in the meeting.
Meetings dominated by presentations leaving little time for authentic interaction. At the last moment, when Q & A is held, one or two might ask a question, but most stay silent.
Meetings where fear of expressing alternative viewpoints lurks beneath the surface and the mix of diverse perspectives is squandered.
Deadly Dull Need Not Be
However, deadly dull meetings need not be. The key is building in ample opportunities for engagement. Building in engagement begins with a hard-headed look at the meetings we lead. Do you design meetings for inclusion, or do you rely on the same old meeting designs that reward the verbose, those high on the org chart, and the culturally dominant?
Evaluate for Inclusion
A key practice meeting facilitators can use to build engagement is to evaluate meetings for inclusion. When a meeting nears its end, in addition to summarizing outcomes and next steps, build in sufficient time for evaluating how the meeting included and engaged everyone—or not.
The goal is threefold:
to enable planners to design better, more inclusive meetings.
to let meeting participants know their voices matter.
to give more than lip-service to diversity by drawing out the unique perspectives and life experience of each participant.
Conduct an Inclusion Survey
Near the end of meetings you facilitate, survey your group with the following questions:
The meeting's design for including each person was clearly outlined and owned by the whole group.
Strongly disagree
Disagree
Agree
Strongly agree
The meeting provided a respectful environment for the free and open expression of ideas, beliefs and opinions.
Strongly disagree
Disagree
Agree
Strongly agree
What percentage of time was spent on listening to presentations versus engaging participants?
75 percent or more, little to no engagement
50 – 25 percent some engagement
25 – 10 percent good engagement
10 percent or less, great engagement
How many opportunities were provided for everyone safely to share ideas regardless of rank, position, background, or culture?
None
One
Two or three
Four or more
Were meeting configurations used that maximized participation, such as meeting in pairs, threesomes, and foursomes, as well as meeting as a whole group?
Live Diversity's Dream by Including
Prior to ending the meeting, share the survey results. Build in time to reflect how inclusion and engagement might be strengthened. Honest feedback will lead you to design the next meeting to be more inclusive and engaging. When you consistently evaluate your meetings for engagement and inclusion, the feedback loop will go far to build inclusion into your organization's culture. The dream of diversity, better thinking and better results, will take a giant step closer to becoming a reality.
About Mark Smutny and Civic Reinventions:
I'm a nonprofit consultant, professional facilitator, diversity and inclusion specialist, webinar and workshop leader, author and Founder of Civic Reinventions, Inc. I work with nonprofits in human services, health and wellness, transportation, affordable housing, homelessness services, business and residents' associations, civic advocacy, and faith-based organizations. I facilitate planning retreats and strategic plans and lead workshops and webinars that teach inclusive meeting practices rooted in the values of empathy, social justice, and the dignity of all.
My book, Thrive: The Facilitator's Guide to Radically Inclusive Meetings, 2nd ed., provides powerful tools to hear all voices and perspectives for greater productivity and mission success.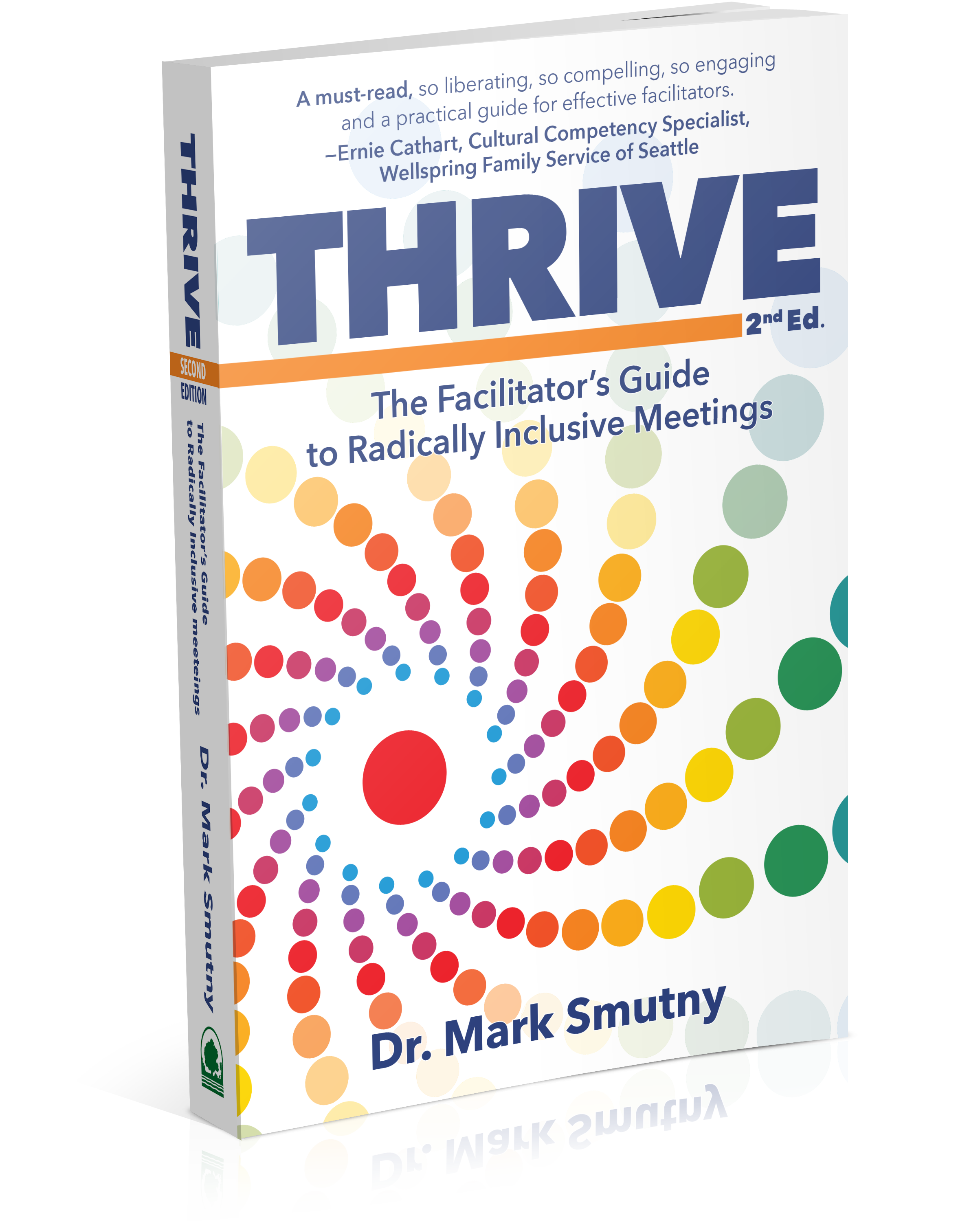 If you're curious about how to build inclusive practices into your nonprofit that strengthen cohesion, focus strategy, and improve mission success, you can book an appointment with me (the first 30 minutes are free).
Or send me an email mark.smutny@civicreinventions.com. Tell me about a challenge you are facing, a pain point, or a story of success. I will answer each inquiry personally.