Helping Nonprofits Thrive
By Dr. Mark Smutny
Author – Thrive: The Facilitator's Guide to Radically Inclusive Meetings, 2nd ed. 

Welcome to Helping Nonprofits Thrive. This weekly newsletter provides practical tools and a bit of theory to strengthen your inclusive leadership skills. Building inclusive and engaging practices that permeate every dimension of your nonprofit helps you stride toward the dream of diversity: better thinking, better results, and a better world.
Faith-based Nonprofits and Spiritual Discernment
Faith-based nonprofits are at their best when decisions are grounded in spiritual discernment. Whether or not we belong to a faith tradition or organized religion, many of us yearn for deeper awareness, insight and the quest to give our lives to something that endures. In a world fraught with anxiety, violence and the degradation of the human spirit, we turn to practices of prayer, mindfulness, study of sacred texts, and deeds of compassion and social justice to make a difference in ourselves and our community.
We recognize that the capacity for awe and wonder is intrinsic to being human. Far from religion being a crutch or belief about a "bearded man in the sky," spirituality brings greater kindness, emotional health and deeper connection to the Holy.  Spirituality recognizes our need for inspiration from a greater life force, a power beyond ourselves, a deep well from within.
Lectio Divina – "Divine Reading"
One powerful discipline for spiritual discernment that I use with faith-based groups is called Lectio Divina or "Divine Reading." Lectio Divina, a Christian spiritual practice first formalized in the Benedictine monastic tradition in the Sixth Century CE., combines reading of sacred text with prayer, contemplation and the sharing of insights.
The basic framework for Lectio Divina has remained the same for centuries and involves reading a sacred text or scripture three times. The following shows how I have adapted this practice. I will use a text from Hebrew scripture to illustrate the process.
Is not this the fast that I choose: to loose the bonds of injustice, to undo the thongs of the yoke, to let the oppressed go free, and to break every yoke? Is it not to share your bread with the hungry, and bring the homeless poor into your house; when you see the naked, to cover them, and not to hide yourself from your own kin? Then your light shall break forth like the dawn, and your healing shall spring up quickly; your vindicator shall go before you, the glory of the Lord shall be your rear guard (Isaiah 58:6-8, New Revised Standard Version).
First Reading
After a time of centering prayer and meditation in groups of 4 to 10 people, a person reads the passage aloud as participants are invited to listen to a word, image or phrase that especially speaks to them. After the reading and a moment of silence, each person shares their word, image or phrase without further comment.
Second Reading
Before the second reading, a creative, open-ended question is posed germane to the passage and relevant to the lives of the people in the group. For example:
What light needs to break forth in you like the dawn?
What yoke needs to be broken in your life?
What healing must spring up quickly in your community?
Again, the passage is read, and after a moment of silence, the participants are invited to share their responses, no more than a minute or two for each person.
Third Reading
During the third reading, participants are invited to reflect on the question. "What does God invite you to do, be or change through this passage?"
Should you want to emphasize the communal dimension of faith, "What does God invite us to do, be or change through this passage?"
Again, each person shares their responses. This final round invites people to go deeper and identify the transformation they most need in their lives and community.
Lectio Divina usually concludes with a group prayer.
Lectio Divina is a powerful way to begin a planning retreat, a conference, or a board meeting. It can also serve as the foundation for a regular study group.  Its purpose is to invoke the role of the Holy in the life and practice of the faith-based group.
I'm a nonprofit consultant, professional facilitator, diversity and inclusion specialist, webinar and workshop leader, author and Founder of Civic Reinventions, Inc. I work with nonprofits in human services, health and wellness, transportation, affordable housing, homelessness services, business and residents' associations, civic advocacy, and faith-based organizations. I facilitate planning retreats and strategic plans and lead workshops and webinars that teach inclusive meeting practices rooted in the values of empathy, social justice, and the dignity of all.
My book, Thrive: The Facilitator's Guide to Radically Inclusive Meetings, 2nd ed., provides powerful tools to hear all voices and perspectives for greater productivity and mission success.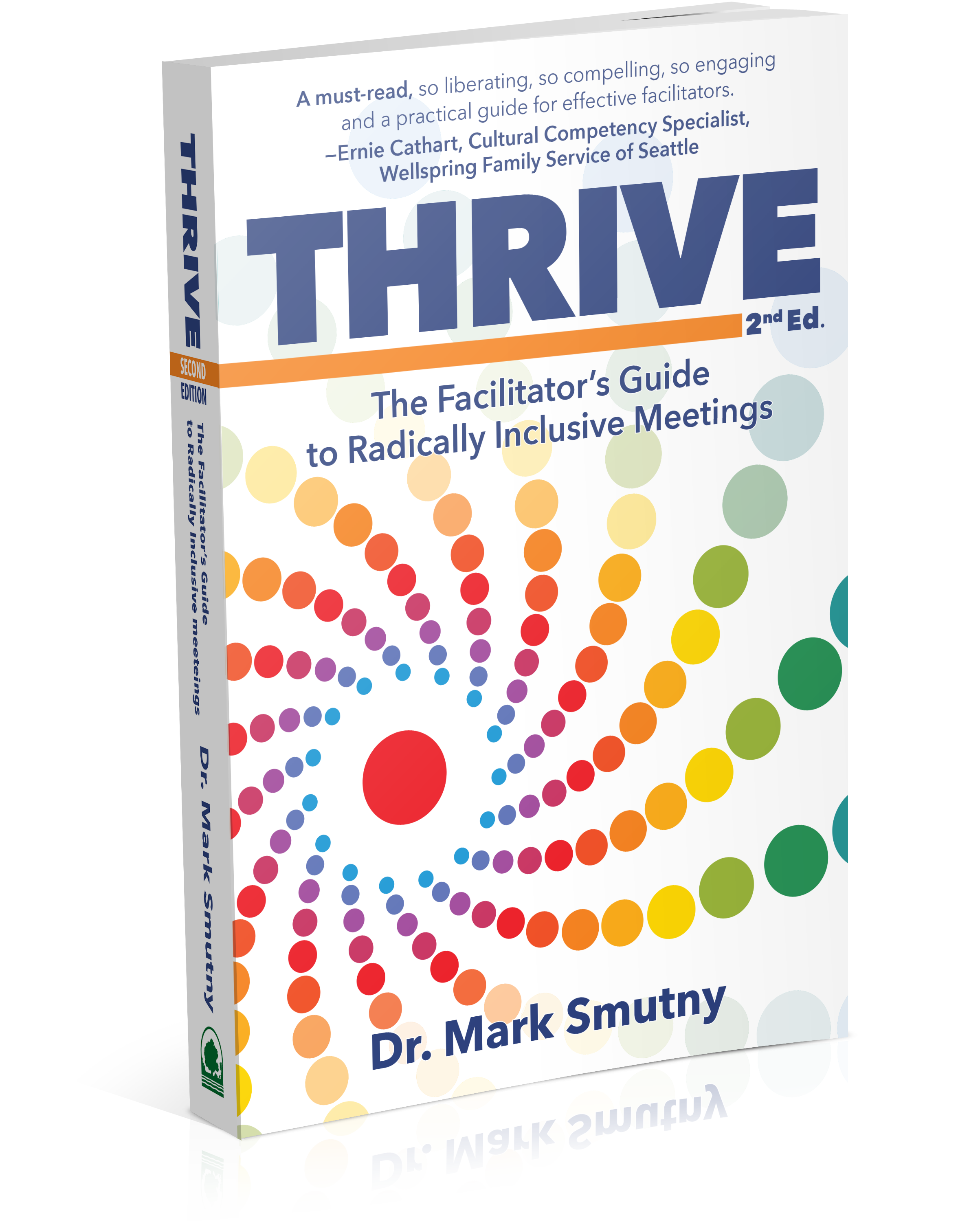 If you're curious about how to build inclusive practices into your nonprofit that strengthen cohesion, focus strategy, and improve mission success, you can book an appointment with me (the first 30 minutes are free).
Or send me an email mark.smutny@civicreinventions.com. Tell me about a challenge you are facing, a pain point, or a story of success. I will answer each inquiry personally.